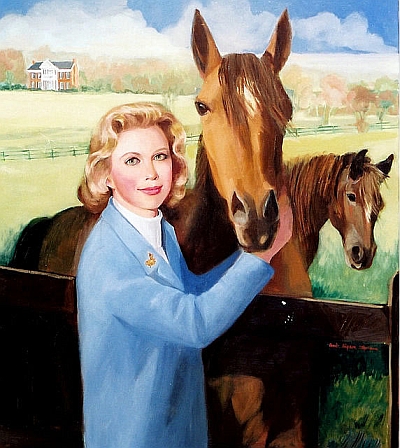 Born in Louisville, Kentucky, in 1929, the daughter of Edwin Lee White of Clay Hill and Ginette Delacarte White of Albi, France, Joan Cotty White grew up spending summers roaming the fields and forests at Clay Hill Farm, the ancestral home of her grandparents, Dr. and Mrs. James Sanders White. She was educated at Kentucky Home School, Hollins College, the University of Alabama, and was graduated from Agnes Scott College in 1951.
A kindergarten teacher before her marriage in 1954 to George W. Howell, lawyer of Birmingham, Alabama, Mrs. Howell was active in the Presbyterian Church and in civic and cultural organizations in Birmingham and in Pascagoula, Mississippi, while raising children, Jeffrey Page Howell and Jennifer Margaret Howell.
A devoted wife, loving mother and faithful friend, Joan White Howell loved all of God's creation and throughout her adult life was deeply committed to responsible earth stewardship. Despite a debilitating terminal illness discovered in the 1980's, she continued a positive and useful life, returning frequently to Clay Hill for respite and to care for the land and forest until her death in 1993. She was honored by the Kentucky Division of Forestry for her forest management practices.
Almighty God, give us due reverence for your

Creation, and bless us with wisdom and will to

preserve "this fragile Earth, our island home".